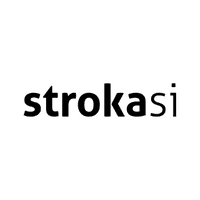 Stroka Produkt d.o.o.
More than 60 experts cover business, web and mobile solutions, digital marketing, systems integration and business analytics.
ERP
BI
Pantheon
Web Solutions
IT Development
STROKA PRODUKT d.o.o.
Who Is the stroka.si Group?
IT for the people
At Stroka.Si Group (Stroka produkt d.o.o.), we specialise in rapid and efficient IT solutions and follow the vision of IT for the people – bringing the IT solutions to every single person in the organisation, thus making their work easier and improving their performance.
Our expert team
More than 60 experts cover business, web and mobile solutions, digital marketing, systems integration and business analytics. A strong team of development and coding experts within the Group is daily developing new business models to assist the companies on their journey of digital transformation.
A global company
The Group is headquartered in Radlje ob Dravi and has an office in the Crystal Palace in Ljubljana. We work with renowned software vendors such as Microsoft, HP Inc., HPE, PTC, Altaro, Stirlitz, nopCommerce, DotNetNuke, Datalab and others. We have clients in 18 European countries.
What we do?
Business and IT Solutions to Help Your Organization Succeed
More than 60 experts are in charge of business, system, web and mobile solutions, and business analytics, comprising a strong development-programming team of experts and a Research & Development Department (R&D).
Infrastructure Solutions
Efficient system integration of business processes and a cutting-edge server system is one of the goals of every company. Our customers can receive consulting services from professional IT experts and we also provide execution, maintenance and security of IT systems and business applications.
PANTHEON Business Solutions
The PANTHEON enterprise resource planning (ERP) system ensures stability, advanced features, and broad customization, covering all business processes from procurement and billing through accounting, salary, and manufacturing. Our experts set up a modern ERP system for company management, administration, and development.
Digital workplace
We can help you achieve a high level of effectiveness at your position by connecting several services and tools in the Microsoft 365 cloud. The increased productivity tools will be connected through a central hub, making it possible for you to find information more quickly, access documents more easily, and keep an overview of projects, determined tasks, and their execution.
Business Analytics
The cloud-based business analytics solution allows you to export visually attractive and clear reports at a single click, anywhere and anytime. The Power BI tool for data processing and visualization in connection with Office 365's tools allows you to elegantly share data with all the users in your company, and they can source the data from each and every system in your company.
Web Solutions
Carefully designed modern online solutions allow our customers to realize even their most daring ideas. Online solutions are not just a one-off product but a permanent digital story that understands the online user in details, adapting to Google's SEO requirements.
Software Development
We develop tailored software, integrate existing applications with various systems, and upgrade existing software. Our team of engineers and developers works tightly with specific business experts to develop our own business and IT solutions.
How we build customer satisfaction
Trust and collaboration
We approach every project with professionalism and commitment. We understand that only your feedback can further improve our services and collaboration with you. We survey customer satisfaction at the end of every project, service request or call. The latest results show that 49% of customers are very satisfied, 51% satisfied and only 1% dissatisfied with our services.
Reliability and responsiveness
Our Customer Care Centre makes sure that your inquiries or challenges concerning our solutions and services reach the right person as quickly as possible. Our HelpDesk system allows a professional and transparent approach to resolving service requests, troubleshooting and complaints for our customers.
Professionalism and organisation
More than 60 IT and business professionals stay at your service. The Group is built around business and development departments and a highly organised CCEDOS support service, the backbone of our company. We support your business comprehensively with consultation and implementation capabilities.
Integrity and development orientation
We cover the areas of business, web and mobile solutions, digital marketing, systems integration and business analytics. We are proud of our strong development and coding team, which works within the group and develops new business models together with the innovation and development department (DCC).
Sustainable development and flexibility
We place great emphasis on the continuous education and training of our staff. We offer our clients a highest degree of flexibility by keeping a close eye on the global IT trends and technological development. We help you plan the IT development strategy and follow an atypical approach to IT.