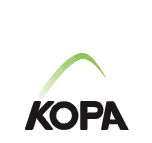 Kopa d.d.
Comprehensive IT solutions for business and industrial needs with a focus on ERP, MES, EAM-CMMS integrations.
ERP
HRM
Digital Transformation
KOPA Computer Engineering d.d.
Since 1978, KOPA has been developing and implementing comprehensive business solutions. Employing 60 highly educated professionals, they collaborate with leading global ICT providers and academic and research institutions in IT, management, and HR. Continuous investment in development allows partners to obtain a complete set of technology, applications, and best practices for a vital and agile business system at one place. Their focus is on areas connecting business (ERP) and production informatics (MES, EAM-CMMS), considering people as a crucial resource for success (HRM), paperless business operation for document and process management (ODiP), and ensuring necessary system integration​
Competitive advantages:
KOPA provides digital transformation tailored to Industry 4.0 needs. They offer modern software solutions, ensuring information security. Their expertise helps in understanding business processes, transferring knowledge to users, renewing, and optimizing business processes and workflows, connecting people, processes, and technologies.
List of products and services:
Kopa ERP,
Kopa UTRIP,
Kopa HRM,
Payroll System,
Kopa BI,
Kopa EAM (with EAM upgrades),
Kopa EAM-Customer Connect,
Kopa ODiP – DMS,
Kopa I-Control,
Kopa Maps,
Kopa Transports