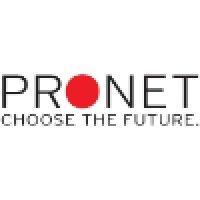 PRONET, Kranj, d.o.o.
We are a team of computer experts who develop unique business models based on modern information technology.
PRONET, Kranj, d.o.o.
Do you have a specific business process that requires a tailored solution?
Our solutions cover most business processes - from material procurement to balance sheet creation. However, you may have specific features in your business that require special solutions or unique customisations.
One of our competitive advantages is our experienced team, which has successfully implemented computerisation projects in companies of all sizes and industries.
In the past, we have developed a number of customised solutions covering specific business processes - such as the organisation and execution of trade fairs, wine production, student services management, etc.
We are confident that together we can find (or create!) the right solution for you.
Our awards, of which we are very proud, tell us that we are doing a good job. Since 2016, we have been the recipient of various awards and certificates (Excelent SME, Excellence Rating, etc.) and since 2019 we have also met the criteria for Platinum Rating Excellence, which is the highest rating and special recognition.