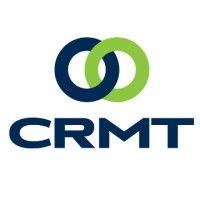 CRMT d.o.o.
An independent provider of best-of-breed solutions that will boost your operational efficiency. Merging rich tradition with a progressive mindset, we put your business needs front and center.
RPA
AI
Data Management
Regulatory Reporting
CPM
CRMT d.o.o.
We are the leading consulting company in the field of system integration and an independent provider of state-of-the-art solutions in the following areas:
Regulatory Reporting,
Data Management (DAMA),
Corporate Performance Management (CPM) and
Robotic Process Automation (RPA).
Our mission
Excellent domain knowledge and professional implementation of the best-of-breed solutions for data management, corporate performance management, regulatory reporting and robotic process automation improve the operational efficiency of our customers.
Our vision
To be the first choice for medium and large CEE organizations that want to excel their efficiency of business processes with state-of-the-art solutions.
Why Choose CRMT?
Innovation-focused
We work in a fast-paced niche where things change in a blink of an eye. Actively analysing upcoming trends and tirelessly working on state-of-the art tech, we consistently make sure that instead of responding to change, we're at the forefront of it.
Dedicated Team
We value our clients as well as the relationships we build with them. To guarantee lasting bonds and a stress-free customer experience, each client gets a dedicated team of experienced consultants who work closely with them, efficiently carrying out every stage of the project.
Independent Solutions
Being an independent provider of system integration solutions, we are free to combine different technologies in a way that best suits you and your business needs. You are free to choose the solutions and we will combine and customize them, even making sure that they fit your existing system infrastructure.
Flexibility
We don't do cookie-cutter solutions, instead thriving at developing proprietary applications and quickly adjusting our operations to whatever needs our clients might have. Got very specific wishes? Great! Because we have the knowledge and flexibility to meet them!