Tom PIT.connected
Tom PIT.connected is a comprehensive platform for digital transformation.
Tom PIT.connected
Tom PIT.connected is a comprehensive digital transformation platform based on the concept of sustainable digitalization. It manages digitalization through its entire life cycle, from design, architecture, infrastructure, hardware, implementation, testing, education, use to maintenance.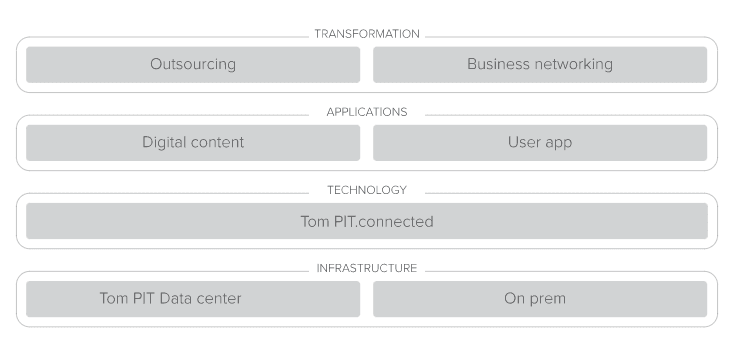 Is Tom PIT.connected an ERP?
Of course, only that sustainable digitalization addresses digitalization as a whole and not individually, in terms of introduction of information silos. Tom PIT includes all the solutions of a typical ERP system, from human resource management, accounting, sales, supplies, warehousing and much more.
Is Tom PIT.connected a CRM?
Clearly, only that the digital content of Tom PIT.connected is integrated into a whole that brings real added value. The CRM system represents customers, potential customers, marketing campaigns, sales, portals for end users and other business partners, as well as project management, human resources, cost and expense management and much more. If you want a CRM to bring you added value, the CRM processes must be linked to logistics, production and the knowledge base.
Is Tom PIT.connected a MES?
Absolutely. With all the components and solutions you can imagine, from Industry 4.0, digital production orders, congestion management, quality, warehouse connections, supply, sales, sophisticated analytics and much more production process related digital content.
Is Tom PIT.connected a WMS?
Correct. And it is modern, scalable and connected to all the other processes inside the company. Tom PIT Warehouse is capable of running hundreds of documents and thousands of transactions every minute, providing real-time insight into inventory.
One partner for entire digital transformation
Tom PIT.connected represents an all-inclusive partner in the digital transformation of your company, as it covers all segments and the entire life cycle of digital transformation.
Can we develop our own solutions with Tom PIT?
Certainly. Tom PIT.connected is a tech platform that includes all the components and building blocks for the effective implementation of custom content. All Tom PIT digital content is also implemented with Tom PIT.connected. In fact, the website you are currently on is implemented with Tom PIT.connected.
Support
Email/Help Desk