Intrix CRM
From inquiry, offer and follow-up activities to successfully concluded business. Sell smarter with Intrix CRM.
Intrix CRM
From inquiry, offer and follow-up activities to successfully concluded business. Sell smarter with
360° client overview
Intrix CRM provides you with a 360-degree view of your customers and an overview of all sales activities in one place.
For each customer, you can track all the important information recorded either by you or your colleagues.
Having all the key information at hand, your employees will be able to establish excellent business relationships with customers.
Import of client data was never easier
Intrix CRM includes integration with Ajpes, Bizi.si and Bisnode databases. Data are available for Slovenia, Croatia, Serbia and Bosnia. In addition to all the basic information of the company, you can also get the financial and credit rating data of the desired company with one click. Entering a new customer has never been so quick and easy.
Sales process support
Monitoring inquiries and sales opportunities.
With Intrix CRM, you can manage your sales process: from first contact with the customer to final purchase and post-purchase support. You have a complete overview of sales opportunities at all times and you can easily see at what stage an individual opportunity is.
Kanban visual overview.
With a graphical overview of demand by sales phases, you will easily keep track of open deals. You can move queries between individual phases with the drag-and-drop function.
Follow-up activities.
Call after the offer was sent, coordination of the date for client meeting. Who, when and what did they say to the client? All in one place. Depending on the sales process, activities can also be partially automated (automatic reminder to call after the offer has been sent).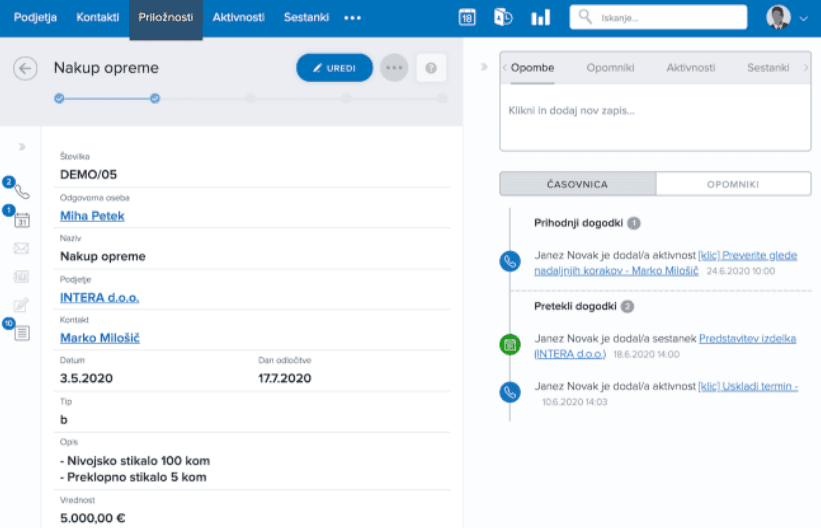 Successful activity organizing
Calendar.
The Intrix calendar allows you to keep track of various activities for yourself and your co-workers. It offers much more than standard calendars, as you can keep track of the different types of activities you attach to your customers: appointments, calls, tasks, services, and more.
You can view the schedules of several employees at the same time, which allows you to effectively monitor the sales team and make it easier to find common free appointments.
Resource planner.
Monitoring and planning the occupancy of co-workers, company vehicles or conference rooms is a pure pleasure with the planner. You can easily schedule meetings, services and work tasks of your team.
Marketing processes
Segmentation and target lists
Customize segments through filters to create custom targeting lists completely to your liking.
Mailing, sticker and envelope print.
In Intrix CRM, you can prepare labels and envelopes for print-ready recipients. With the possibility of connecting to mailing systems, your marketing will be even more effective.
Monitor performance.
You can link any inquiry to a marketing campaign for complete traceability over campaign performance.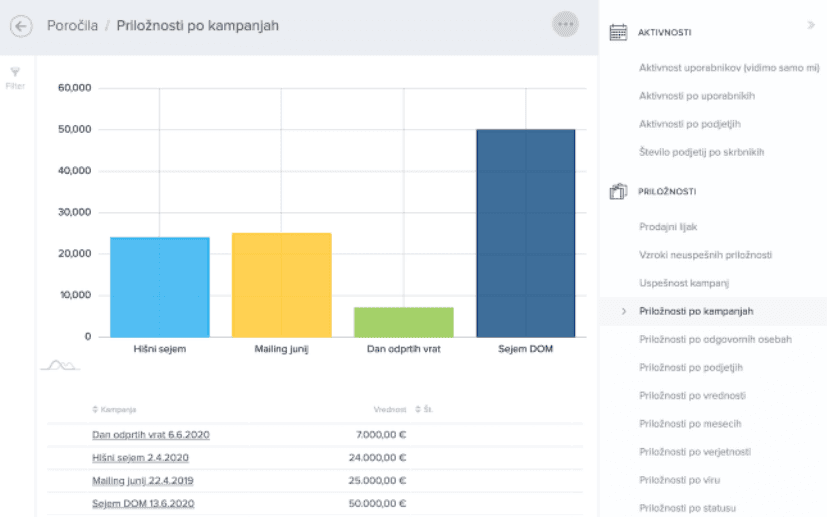 Claims and services
Traceability of claims and "ticketing"
It provides a detailed overview of unprocessed, scheduled and completed claims at all times.
Service Scheduler
Monitoring and planning service technicians with a scheduler couldn't be any easier. From the pool of unassigned services, simply schedule a service request to the service technician on the appropriate date.
Electronic signatures
For the most demanding, we also enable the printing of a service order in PDF and electronic signing on a mobile device. For digitization and paperless business.
Reports
Excellent reports give you an accurate overview of the situation and the best decision support at all times. We can create custom reports, arrange for automatic weekly reports to be emailed, link to BI, or display reports on office screens.
Project management
Monitor internal or implementation projects
You can select a project team for each project, set tasks and deadlines, record revenues and expenses, monitor time consumption, attach documentation, etc.
Planner
Comprehensive overview and scheduling of all your resources in one place. Transparent and easy.
You can manage a variety of resources such as personnel, rolling stock, premises, equipment and the like. The scheduler is closely related to all your data in CRM (services, projects…) and shows the occupancy of all resources on one timeline.
Monitoring of project finances
Full control over revenues and expenditures is the basis for timely action.
Mobile application
The Intrix mobile app for Android and iOS delivers a revolutionary , fully customizable mobile user experience.
With one click, you can access all of your customers 'data, scan and add a customer's business card, record a new appointment, reminder, find the minutes of the last meeting, or attach an image taken with a mobile phone.
Business card scanner
Call identification
Taking photos on location
Electronic signatures
ERP integration
Connecting with ERP. Intrix is ​​compatible with various ERP information systems, such as Datalab Pantheon, SAOP iCenter, AccountingBox, Navision, Perftech Largo, Vasco, E-invoices, Minimax, SAP… Advanced integrations tailored to you are possible. Standard integration is 2-way sync of clients, contacts and 1-way sync of offers, orders and financial information from ERP into Intrix.